Mom is simply the best. Who else will take care of you when you're feeling ill, listen to you when you're down in the dumps, and text you incessantly when you're on a date?
Of course, someone so concerned awe-inspiring deserves only the most special of gifts. This Mother's Day, remind her just how incredible you think she is with one — or more! — of these perfect little somethings. Followed, of course, by all the showings of affection your phone, email, and snail mail, can handle.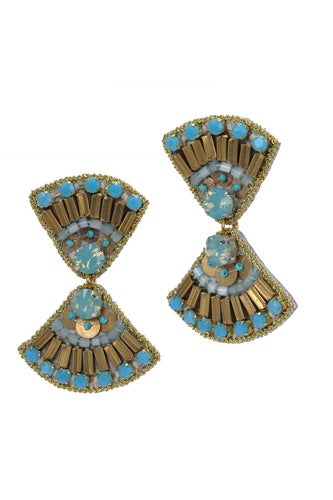 These earrings are versatile, yet elegant for any madre to wear them from morning till night.
Suzanna Dai Bahia Button Drops, $140, available at Fragments.

Spa time, all the time — these jammies are grown-up and super luxe.
Julianne Jeanne Luxury PJ's, $268, available at Journelle. Plus, score up to 50% off with this R29 Shopsdeal.

This perfectly hued Hermès scarf is a great "shared" gift from siblings and Dad…because mom could always use some more of the coveted, French label.
Hermès Brazil II, $820, available at Hermès.

A quick and easy blow out, white wine included. Send mom to Drybar for a VIP experience that'll last until her next wash.
Drybar Monthly Membership, $75 – $140, available at Drybar.

We're digging this perfect-for-spring top from Equipment. It's great for work, great for dinner, great to steal from mom's closet.
Equipment Signature Shirt, $208, available at Equipment.

There's something so sophisticated about these Karen Walker shades — they'd make any outfit instantly chic.
Karen Walker Eyewear Perfect Day Sunglasses, $181, available at Matches Fashion.

Engrave your mom's initials (or a sweet message) and be the favorite forever.
In God We Trust Boyfriend Cuff, $40, available at R29 Shops.

This mandala necklace looks so special, she'll never want to take it off!
Satya Jewelry Silver Mandala Necklace, $158, available at Satya Jewelry.

A carry-all that can go from the beach to the city to an airport in no time? This is definitely another gift worth splurging on.
Michael Kors Large Gia Crocodile-Embossed Tote, $895, available at Michael Kors.

Your mom's already an awesome chef, but enrolling together in Haven Kitchen's two-hour baking classes and you can both up your shortcake-and-cobbler game.
Haven Kitchen Shortcakes And Cobblers Cooking Class, $75, available at Haven Kitchen.

A cake stand for your shortcake and cobbler, duh!
Williams-Sonoma Faux Bois Cake Stand, $29.95 – $39.95, available at Williams-Sonoma.

A tea that promises renewed beauty? That's got "for mom" (and "for us") written all over it.
The Teaologist Beauty Flight Gift Set, $34, available at The Teaologist.

The Samsung Galaxy tablet is a great reader, video player, and life organizer for a tech-savvy mom on the go.
Samsung Galaxy Tab, $179.99, available at Best Buy.

The bottles will look as beautiful on her vanity as this Valentino scent will smell!
Valentino Valentina Assoluto Fragrance Gift Set, $119, available at Neiman Marcus.

Throwback tunes and the promise of a road trip together? The Eagles say "check and check!"
The Eagles Farewell 1 Tour DVD, $18.99, available at Amazon.

Daisies, begone! We're digging H.Bloom's modern take on flowers that are sleek, but beautiful. Best part? Delivery and vases are included.
H. Bloom Junior Cactus Trio, $50, available at H.Bloom.

A day-pass to the sauna, the plunge, pools, and an in-room treatment sounds like a great way to treat mom. Check out Exhale spa at the Meatpacking's trendy Gansevoort Hotel for a mini mom-staycation.
Exhale Spa Spa Therapy, prices vary, available at Exhale Spa.
Market by Annie Georgia Greenberg
Click to read more from Refinery29.