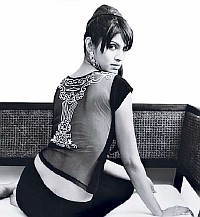 You can publish this article on your website as long as you provide a link back to this page.
This article was last updated on April 16, 2022

Ever seen a bride in black in India. A fashion shocker, you'd say. We'd say, a reality. Basic black is back
Black is the new colour, intellectualised and given a cultural makeover by desi designers. Right now, designer Suneet Varma is busily working for his Couture show, which will have a parade of black. There's a renewed energy in the bling of black extravaganza.
Says designer Suneet Varma, "Black is back, this fall. For my couture show, I'm using a lot of black. But my interpretation of black is different. I'm using pure black with silver, black with deep burgundy, black with net and velvet. Nothing dazzles than the purity of black. I'm merging it with different textures. Sure, black dresses never go out of fashion — from Prada to Zara, everyone does a black dress. The New Black has an interplay of solid, sheer, opaque. It's defining smart luxury."
When super sensual Priyanka Chopra walks around in a black costume in Madhur Bhandarkar's Fashion , she's just not making a black statement. She defines a new mood in sensuality. She defines an ultra-luxe, high-fashion, exotic mood. It may also be the Obama effect. Super black is back. And screaming the black movement is Victoria Beckham, Kate Moss in their new collections. Not only that, Giorgio Armani went back to black in his young Emporio Collection at the opening of Milan Fashion Week. According to the Hiliary Alexander of Telegraph, Armani said, "After seasons of colour, black is back."
The resurgence of black doesn't necessary mean a sober look. And some critics will ask, "Did black ever go out of fashion?" Even as some may say, that black has run its fashion course. The reality is far from it. All is not over for black. Says designer Varun Bahl, "I doubt it. What's happened is that black has just changed its character. It's no longer dull, plain, boring and predictable. This is the new age of experimentation with all that is black — lace, velvet, sheer, transparent and chiffon. The texture has just changed. I can never fall out of love with black. In couture, black rules. It never goes out of fashion. Now, it's got an interesting swing even in Indian outfits."
If the global fashion runways are any indicator of style trends, black is a significant colour making a huge impact. And not the usual black, please. Think rock, think grunge. That's the black we're talking about. Says designer Gaurav Gupta, "Black is a strong, comfortable colour. It allows you to experiment. This season, we'll see a lot of short black jackets, shrugs, accessories in black. There are two extreme looks in blacks: one is soft and edgy, other is very evening. The mood is every bit rock."
Be it Namita Joshipura's black leather blouse, or Ashish Soni's black pants — in India black is the intellecutal colour of modernism, as Indian brides dare to wear black on their wedding now. Says designer Puja Nayyar, "I'm working with black for my Indian and western collection. There's huge difference now, because women are daring to wear more black than ever before. The new black is charcoaly, inky blue. It defines new luxe."