You can publish this article on your website as long as you provide a link back to this page.
This article was last updated on May 20, 2022
Ask any fashion person what he or she is shopping and, well, you'd better carve out a few hours to listen. As members of that style crew, our biggest highs come from the release of new collections and collaborations, and we'll tell anyone who cares just a little (or simply pretends to) about the buys we have our eyes on — even if the list is endless.
Curious about what the fashion set is scoping out right now? We tapped 13 fellow editors, designers, stylists, and bloggers — including Rachel Zoe, Aimee Song, and Rachel Comey — to spill what they're looking to pick up this season. But, since there are only so many hours in the day, we tasked them with whittling down their list of must-haves to just one item. Yes,one. No easy feat for these folks, so you know the pieces ahead are worth it.

"I'm obsessed with Saint Laurent's Sac du Jour in the Havana suede…kind of a Hampton's necessity, right?"
— Rachel Zoe, stylist, editor, and designer
Saint Laurent Large Sac De Jour, $2950, available at Barneys New York.

"On y va is my favorite French saying. C'est dynamique! Also, I designed these with my friend Yasmin Sewell, so I'm partial. They will also be available for purchase on ShopBAZAARat the end of August."
—Laura Brown, executive editor, Harper's Bazaar
Être Cécile On Y Va Graphic Tee, $158, available at Intermix.

"I love this bootie because it is sporty with interesting details, but it is still quite clean — perfect with jeans and a giant sweater."
— Amy Smilovic, designer of Tibi
Sophia Webster Bonita Striped Leather Lace-Ups, $341, available at MatchesFashion.com.

"I love to wear a comfortable dress — something in a great print with a simple shape is so perfect. It looks smart but feels very easy for during the day and into the evening."
— Kate Foley, stylist
Suno Printed Stretch-Silk Dress, $550, available at Net-A-Porter.

"The ceramics by Jennie Jieun Lee are exciting and inspiring, a hot mess of color and shape. I think I need to drink coffee from this baby when I'm at my desk. It would be at home amongst the piles of clothes that surround me."
— Rachel Comey, designer of Rachel Comey
Jennie Jieun Lee Mug, $88, available at Jennie Jieun Lee.

"Athena Procopiou's scarves and caftans are perfect for summer as a beach cover-up or to wear from day to night."
— Aimee Song, blogger, Song of Style
Athena Procopiou Sunset In Nap Cover-Up, $518, available at Farfetch.

"I recently met Natalya from Toy Syndrome, and I'm so super into her stuff! She made me some lizard hair pins (I love lizards) that make me feel so excited, but I'm really jazzed to wear this buggy beanie this fall."
— Laurel Pantin, style editor, Lucky
Toy Syndrome Orange/Black Beetle Beanie, $25, available at Toy Syndrome.

"I love a pop of color — especially in accessories. And, lately, I've been into matching my sunglasses (cat-eye particularly!) with my purses."
— Tanya Taylor, designer of Tanya Taylor
Dries Van Noten by Linda Farrow GalleryCat-Eye Acetate Sunglasses, $370, available at Moda Operandi.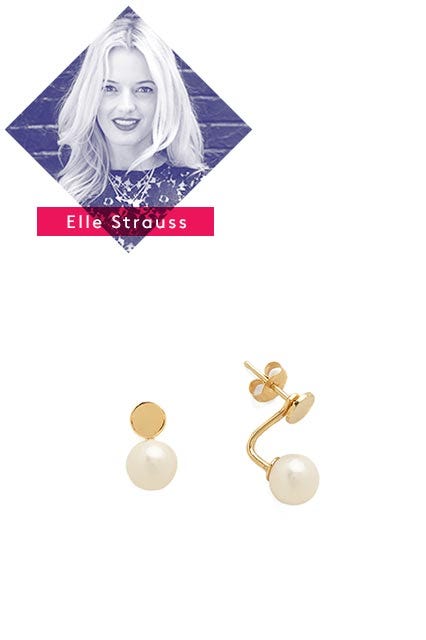 "I have always been obsessed with Ariel Gordon Jewelry and love her latest Shopbop-exclusive earrings. The pearl detail is so classic and delicate, while the ear-jacket style lends a modern twist."
— Elle Strauss, fashion director, Shopbop
Ariel Gordon Jewelry Pearl Jacket Stud Earrings, $285, available at Shopbop.

"EverydayNeeds is my go-to site for all of life's essentials; before it, I had no idea I needed a beautifully designed toilet-roll holder, copper tea strainer, mushroom brush, and copper vase cleaner — but it turns out I do!"
— Karen Walker, designer of Karen Walker
EverydayNeeds Toilet Roll Holder, $60.83, available at EverydayNeeds.

"I love the mix of fabrics and textures; a jacket is not only about shape."
— Tracy Sedino, marketing director, Linda Farrow
3.1 Phillip Lim Landscape Motif Bomber Jacket, $1815, available at Lane Crawford.

"I recently bought this perfect, day-to-night jumpsuit in navy, and it's taking all of my willpower to not wear it every single day. If I had it in pink that would solve the problem, right?"
— Nikki Ogunnaike, online style editor,Glamour
J.Crew Collection Eyelet Jumpsuit, $298, available at J.Crew.

"I love how simple and old-school this is. I'm always trying to look like a teenager from the '70s, so this is perfect. Plus, red is my favorite color."
— Michèle Ouellet, model and founder ofLorenza Rosé
Bella Freud 1970 Jumper, $461.40, available at Bella Freud.
Click HERE to read more from Refinery29.