You can publish this article on your website as long as you provide a link back to this page.
This article was last updated on April 16, 2022
It's tradition to set your love in stone. Though when it comes to choosing the one — your engagement ring, that is — there are many factors to consider besides princess or emerald cut. The most important likely being budget. After all, not everyone has unlimited funds to dole out for the oft-sentimentalized token. And, we're of the opinion it really is the thought that counts.
Don't worry, we get it. You don't want to have any ifs, ands, or buts about the object of your affection or any regrets in the jewelry department either. So, we're sharing 30 rock-solid ways to "put a ring on it," at every price. Ahead, we divvied 'em up into six categories. Only have $300 to spend? Great. Or, $1,000? Cool. What about $2,500? Awesome. Scroll through, and then let us know in the comments how you like them apples.

Under $300
Zoë Chicco 14K Black & White Diamond Stacked Band, $285, available at Zoë Chicco.

Under $300
In God We Trust Gold Pluto Ring, $240, available at In God We Trust.

Under $300
Melissa Joy Manning 14K Gold Ring, $240, available at Net-A-Porter.

Under $300
giantLION Quartz Prong Ring, $130, available at giantLION.

Under $300
Okomido Orchard Ring, $185, available at Okomido.

$300 to $500
Kamofie Diamond Leaf Ring, $484, available at Twist.

$300 to $500
Manon Small Solitaire Disc Ring, $325, available at Manon.

$300 to $500
Vale Jewelry Large Rose Cut Champagne Diamond Ring, $450, available at Vale Jewelry.

$300 to $500
Blanca Monrós Gómez Thin Wavy Band 3 Diamonds, $490, available at Steven Alan.

$300 to $500
Loren Stewart Black Diamond & Gold Ring, $315, available at Barneys New York.

$500 to $1,000
Monica Rich Kosann "I Love You More" Sapphire Posey Ring, $940, available at Monica Rich Kosann.

$500 to $1,000
WWAKE Open Opal & Diamond Ring, $690, available at WWAKE.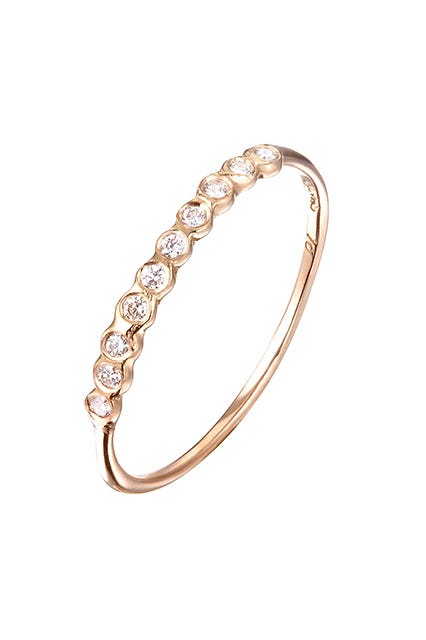 $500 to $1,000
Satomi Kawakita Sweet 10 White Diamond Band, $902, available at OTTE.

$500 to $1,000
Jennie Kwon Black Diamond Equilibrium Point Ring, $638, available at Jennie Kwon.

$500 to $1,000
MIRLO Pear Duo Sapphire Ring, $765, available at MIRLO.

$1,000 to $2,500
Digby & Iona Atreyu Ring, $1180, available at Digby & Iona.

$1,000 to $2,500
Lizzie Mandler Othello Knife Edge Band, $2000, available at Lizzie Mandler.

$1,000 to $2,500
Doyle & Doyle Antique Three Stone Diamond Ring, 0.48ct, $1800, available at Doyle & Doyle.

$1,000 to $2,500
Mociun Curved Band with Mirco Pave White Diamonds, $2000, available at Mociun.

$1,000 to $2,500
ManiaMania Entity Solitaire Ring, $1400, available at ManiaMania.

$2,500 to $5,000
Elizabeth Street Yellow Gold, White Diamond, and Rubies Ring, $4180, available at Love Adorned.

$2,500 to $5,000
Irene Neuwirth Rose Cut Labradorite Ring with Diamonds, $3280, available at Ylang 23.

$2,500 to $5,000
Bittersweets New York Brilliant Diamond Twig Ring, $2800, available at Bittersweets New York.

$2,500 to $5,000
Erica Weiner Georgian Ruby and Diamond Double Heart Ring, $3400, available at Erica Weiner.

$2,500 to $5,000
Tiffany & Co. Three Stone Milgrain Ring, $3150, available at Tiffany & Co.

$5,000 and up
Deszo by Sara Beltran Diamond, Jali Black Enamel & Rose Gold Ring, $9800, available at Barneys New York.

$5,000 and up
Alex Sepkus 18K Gold & Diamond Orchard Ring, $6240, available at Alex Sepkus.

$5,000 and up
Polly Wales Arcade Pyramid Ring, $6510, available at Catbird.

$5,000 and up
Anna Sheffield White Diamond & Pink Sapphire Oval Bea, $9500, available at Anna Sheffield.

$5,000 and up
Cartier Destinée Solitaire, price upon request, available at Cartier.
Click HERE to read more from Refinery29.