A small child lugging a man's tie the length and hue of a red carpet runner. A tube dress that features a short hemline and a turtleneck, but no armholes. A blazer dress with one long arm that's meant for someone else to wear as a bustier. The designer himself making the rounds leading a ghost-white horse. It's not a synopsis of the final walk-off in Zoolander II — it was what happened during yesterday's Jacquemus show, one of the most buzzed-about, darling designers to come out of Paris in the last decade.

The adoration came fast and furious: "Bravo for such a moving and emotional show!" Instagrammed
Bryan Boy
.
Suzy Menkes
called it "fashion from the soul." Stylist
Tina Leung
'grammed that "there is so much I want to wear." Across the pond, we woke up to the aforementioned images with a big question mark above our heads. What exactly happened here? Wait — is that a horse?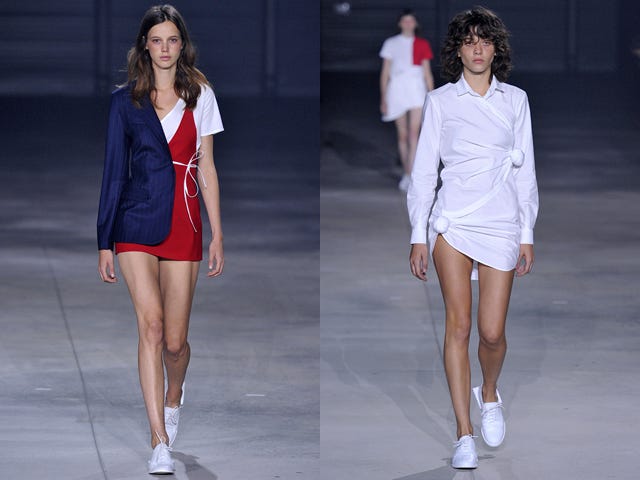 As it turns out, you kind of had to be there. As our fashion director Paula Goldstein explained to me, "Simon Porte Jacquemus is important for French fashion. European press has held him in [as high regard as] Brits like Simone Rocha and early J.W. Anderson. His collections may be less developed design-wise, but he understands the concept just as strongly as the best of them. He will always explain his work as story first and clothing second."

The story, which wasn't as easily communicated through Instagram, definitely fills in the blanks. Titled "Le Nez Rouge," or The Red Nose, the show was a representation of the tragic summer in Jacqumus' childhood after his mother died. The collection was filled with representations of whole beings torn in half, bodies being immobilized by symbols of adulthood (ties, suits, etc), and the idea of desperately holding on to other people.

Says Paula, "The 7-year-old child in the show was Jacquemus' cousin, and she was pushing a giant ball of red fabric around. Yes, it was attention-grabbing, but that's what Jacquemus does. He gets your attention. In my book, you've made it in some sense, when The New York Times sends out a
confused series of tweets
about your show."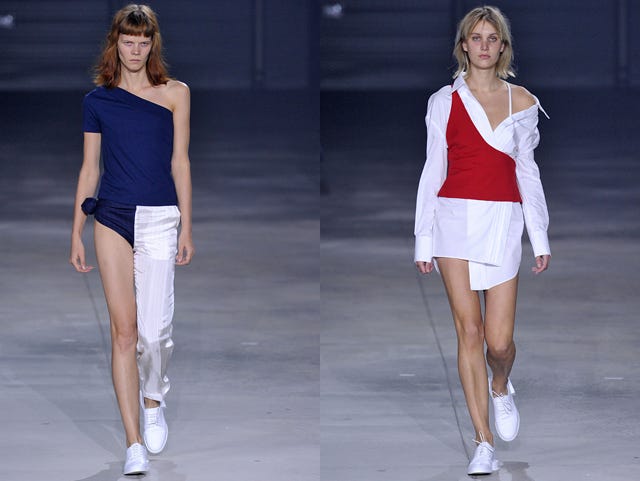 The New York Times eventually reviewed the collection, and said that the the show itself "[suffered] from the artistic pretensions of vision-making." Business of Fashion was more straight to the point, and said that the theatrics — without context — told those in the audience, "WOW, [this is] a fashion show."

And there's that classic struggle for the fashion community. Is fashion art? Or is it commerce? Does a fashion show deserve merit because it tells a heart-rending story about one person's loss of innocence, a loved one, and part of himself — even if the clothes aren't exactly things that real people would want to wear? Can a young designer without the infrastructural support and business savvy of similarly conceptual designers like Rei Kawakubo and Thom Browne survive? Are despair and darkness and death themes that can sell clothes? Can we applaud an artist for exploring these topics while at the same time raising an eyebrow that he did it in a venue that's inherently meant to be attractive? Is the story and concept more important here, or is the vehicle in which they're driven?
Can you be a successful brand if you put the cart before the horse?
Click
HERE
to read more from Refinery29