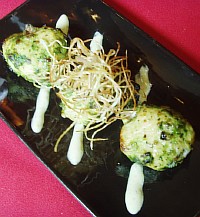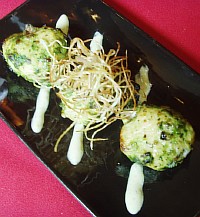 To add on to the taste, make the chutney by blending all the ingredients in a food processor…
Ingredients
Chicken – boneless cut into 4cm dices 2 Kilogram
Spice Blend
Star Anise – 4 No.
Small Cardamom – 4 No.
Cinnamon – 4 cm stick.
Black Pepper Corn – 2Tea spoon.
Cloves – 1Tea spoon.
Large Cardamom – 2 No.
Salt – To Taste
Chutney
Mint – 1 Bunch
Coriander – ½ Bunch
Green Chillies – to Taste (4 No.)
Ginger Garlic Paste – 2 Table spoon
Lime Juice – 4 Table Spoon
Mustard Oil – 50 Ml
Salt – to Taste
Method
1. Grind the spice mix in a coffee grinder/masala grinder.
2. Make the chutney by blending all the chutney ingredients in a food processor.
3. Rub chicken with the spice mix and then marinate with the chutney.
4. Grill chicken on the barbeque or roast in an oven at 250° C for about 10 minutes.
* Use equal quantities of ginger, garlic and some oil to make the paste.