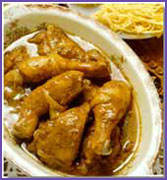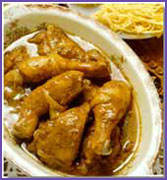 Chicken Khurma
Ingredients :
1-1.5lb chicken
2 medium Onions
3 big Green Chillies, chopped
1/2 inch Ginger, chopped
1/4 cup Coconut grated
1/2 tsp turmeric powder
1/2 tsp Coriander powder
1/2 tsp Cumin seed powder
1 tsp Saunf
Garam masala
1 tsp (cloves – 1, cinnamon stick – 1, bay leaf – 1)
Salt to taste
4 tsp Oil
2 tbsp Coriander leaves
Method :
Grind the ginger, saunf and green chillies with half the onions (with little water) and set aside.
Grind the grated coconut with some water and set aside.
In a pan, heat oil and add the garam masala items and then the rest of the onions.
Saute the onions for a while. Then, add the chillies-ginger-onion paste and saute.
Then, add the turmeric powder, coriander powder, cumin seed powder and salt.
Fry this mixture for a while maybe adding a little bit of water.
Then, add the chicken pieces and some water and cover the pan with a lid and allow to cook for 1/2 hr – 1 hour (or until chicken is done).
When the chicken is cooked, stir in the coconut paste with some water and bring to a boil.
Add the coriander leaves for garnish.
Goes well with rice and rotis.