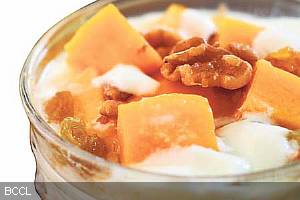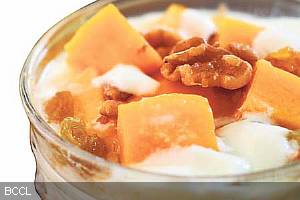 Before the mango-season bids an adieu make the most out of the fruit
Ingredients:
3/4 cup long-grain rice
1-1/2 cups water
1 cup cream of coconut
2 cups milk
1/2 cup light brown sugar
1/4 cup granulated sugar (to taste)
1/2 teaspoon ground cinnamon
1 fresh mango
Method:
Add the rice and water to a medium pan and simmer. Keep it covered till the rice is cooked and the water has almost all been absorbed.
When the rice is cooked, add the cream of coconut, milk, light brown sugar and cinnamon to the pan and stir. Once the liquid has had a chance to warm, taste it and add as much granulated sugar as needed to suit your preference, up to 1/4 cup.
Simmer the rice pudding for 40-45 minutes, checking and stirring frequently.
Meanwhile, peel and core the mango. Finely dice the flesh and set aside.
When the rice pudding is nearly at the right consistency, add the diced mango and cook for another
2 minutes, to allow the mango to soften slightly.
Take off the heat and leave to stand for a few minutes for the flavours to blend.
Serve and enjoy!