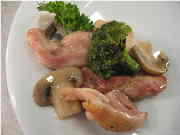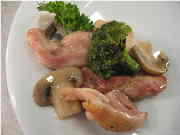 Chicken Divan
Ingredients:
2-3 cups of cooked cut chicken
1/2 small onion, chopped
1 can cream of chicken soup
1/3 cup mayonnaise
3 tbsp flour
2 celery stalks, cut up
1 (10 oz.) pkg. frozen broccoli cuts
1/2 tsp curry powder
1 tbsp lemon juice
Hot buttered noodles
Method :
In medium bowl, thoroughly combine all ingredients except noodles.
Pour into lightly greased slow cooker/Crock Pot.
Cover and cook on low setting 6-8 hours or on high setting 2-3 hours.
Serve over hot buttered noodles. Makes about 2 quarts.
You can double this recipe. Add more vegetables and/or some chicken broth if too thick.
You can mix this the night before and keep in the refrigerator to cook the next day while you're away.