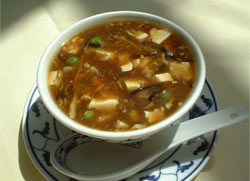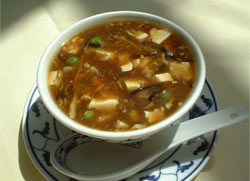 Hot and Sour Soup
Serves 6
Ingredients:
2 tbsp. vegetable oil
1 med. onion, sliced
3 carrots, thinly sliced
3 cloves minced garlic
1 tbsp. fresh ginger, minced
4 c. chicken broth
1 c. water
2 tbsp. soy sauce
6 oz. shiitake mushrooms
1/3 c. sliced water chestnuts
1/2 lb. sliced snow peas
1 c. fresh bean sprouts
1/4 c. rice-wine vinegar
2 tbsp. sesame oil
Dash of chili oil
Directions:
Heat 2 tbsp. vegetable oil in a heavy pot over medium heat.
Add the onion and carrots; cook, stirring constantly for 3 minutes.
Add the garlic and ginger; cook, stirring for 1 minute.
Add chicken broth, water and soy sauce. Bring to a boil and cook for 2 minutes.
Add the mushrooms and water chestnuts; boil for 1 minute.
Turn off heat, add peas and bean sprouts. Cover and let rest for 2 minutes.
Stir in rice-wine vinegar, sesame oil and chili oil. Heat through for 1 minute, serve immediately.