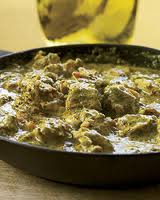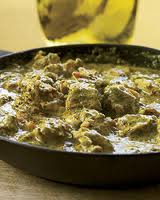 Green Chicken
Ingredients:
2 pound chicken
1 tbsp ginger paste
1 tbsp garlic paste
4 cloves
1 inch stick cinnamon
3 to 4 cardamom
2 dried red chillies
2 large onion
1 large tomato
10oz chopped spinach
oil enough to fry chicken
Method :
First wash chicken well & marinate in onion, ginger & garlic paste.
Heat oil & add the chillies, clove, cinnamon, and cardamom.
Once it is fried add the chicken mixture & fry till half done.
Meanwhile cook spinach with 2 tbsp water in microwave for 7-8 minutes.
Puree the spinach in a blender.
After frying chicken add the tomatoes & fry for another 3-4 minutes.
Now add the spinach & let it simmer for 20 minutes or till chicken is done.
The oil will separate once it is cooked.
Serve hot with roti or naan