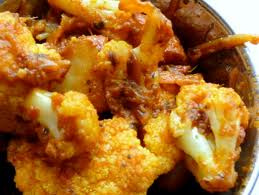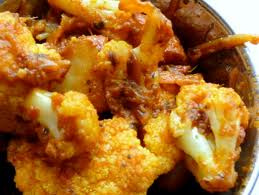 Masala Gobi
Ingredients :
1 large cauliflower
1 tbsp poppy seeds
1 tbsp cashewnuts broken into pieces
10 gms ginger
6 flakes garlic
2 green chillies
2 large onions chopped finely
2 tomatoes chopped finely
½ tsp turmeric powder
½ tsp red chilly powder
1 tbsp coriander powder
½ tsp cumin powder
1 large tablespoon curd (beaten)
Onion rings, lemon ridges & coriander leaves for garnishing
Method :
Immerse cauliflower for half an hour in boiling water with 2tsp salt.
Drain it and keep aside.
Grind poppy seeds and cashew into a paste adding water.
Grind ginger, garlic, green chillies into a paste.
Heat oil and fry onions till golden brown, add ginger-garlic paste, tomatoes, turmeric, coriander, cumin and chilli powders.
Add little water and cook till tomatoes are pulpy.
Now add curd and stir fry till well blended & till oil shows.
Now gently lower the cauliflower and fry for 3 minutes on each side to coat the masala ending with the stump side down.
Cover with a tight lid and cook on high for 2 minutes.
Reduce heat and cook till the cauliflower is done.
Add cashew paste and a little water to make it into a gravy.
Remove from heat. Place cauliflower on serving dish.
Pour masala over the cauliflower.