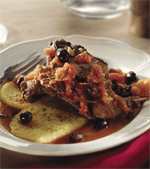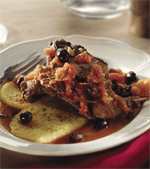 Rabbit with Cognac and Black Calamata Olives
Ingredients:
• 2 pounds fresh rabbit, cut into pieces (butcher cuts)
• 4 tablespoons of olive oil
• 4 tablesppons of vegetable oil
• 1 onion, chopped
• 1 garlic clove, chopped
• 3 ounces cognac
• 4 tablespoons beef bouillon concentrated with 2 cups water or stock
• 40 calamata olives
• salt, pepper and basil
• small container mushrooms
• 1 tablespoon of baking soda with two ounces water
• 5 medium potatoes (side order)
Directions:
1• Lightly brown pieces of Rabbit in the olive oil and vegetable oil.
2• Add the onion and garlic and garnish with salt and pepper cook for 10 more minutes.
3• Sautee with cognac until flame half down
4• Season with salt, pepper and basil as needed to taste
5• Prepare an oven pot with cover and add the beef bouilon or stock
6• Add the cooked rabbit ingredient and let cook for 35 minutes in oven at 350 degrees.
7• Remove cover and let cook for 25 minutes.
8• Add mushrooms and olives and let cook for 15 more minutes
9• Remove oven pot from oven and add one tablespoon baking soda to two ounces of water, wisk and add to thicken.
10• Put back in oven for five more minutes for thickening and serve
11• Meanwhile fry the potatoes for side dish with a nice green italian salad and a bottle of wine. courtesy Elena
Serves 6-8.