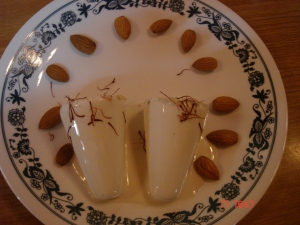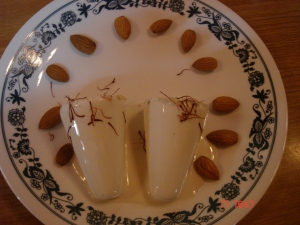 Creamy Kulfi
Ingredients :
1 litre full cream milk
250 gms cottage cheese
5-6 big pieces of dry petha (Mithai)
4-5 pieces green cardamom
Dry fruits shredded (optional)
Method :
Boil the Milk in a heavy bottomed utensil on a low flame.
Grate the petha pieces and add to the boiling milk. Keep stirring.
Place the grated cheese in a large sieve and wash well with water so as the milk does not curdle.
Then add the cheese and cardamom powder. Keep stirring.
As the mixture thickens, remove from the flame.
Add the Dry fruits (optional). Let it cool and put it in the freezer to set.
After an hour blend well and put it in the kulfi moulds and let it set.