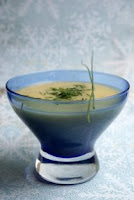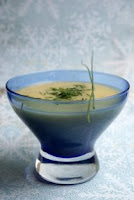 Leek and Basil Soup
Ingredients:
1 tbsp Pure Olive Oil
2 leeks,washed,white part sliced
1 red onion,chopped
2 tbsp Pesto Basil Sauce
1 garlic clove,.nely minced
2 potatoes,peeled and sliced
4 cups heated chicken stock 1 L
salt and pepper
Directions:
1• In a large saucepan,heat oil over medium-low heat.Add leeks and onion. Cook 5 minutes.
2• Add remaining ingredients,season to taste with salt and pepper,and bring to boil.Cook at least 20 minutes overlow heat,stirring occasionally,until potatoes are tender.Serve hot.
Serves 4 to 6 people.