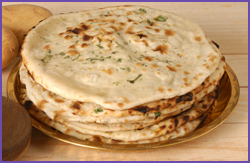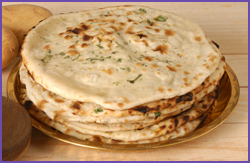 Misi Jaisi Roti
Ingredients :
2 teacups besan
1 teacup maida
1 teacup gehun ka atta
1 onion, finely chopped
2 – 3 green chillies, chopped
1 tsp ajwain
2 tbsp coriander, chopped
4 tbsp ghee
salt to taste
Method :
Combine all the ingredients by using enough water and make a semi-stiff dough.
Knead the dough properly and keep for ½ hour. Knead again.
Roll out into thin rounds. Apply a little ghee and cook them either in a pressure cooker or on a tava.
Ready to serve hot.
Pressure cooker method :
Grease a pressure cooker very lightly with oil. Take out the lid from the pressure cooker and heat it upside down.
Take each naan, apply a little water on one side and stick the wet side around the inside of the pressure cooker till brown spots appear. Continue the same procedure for the remaining naans. (One at a time you can apply 3 to 4 naans inside the walls of a pressure cooker).
Take out and apply butter.
Ready to serve.