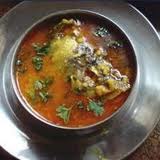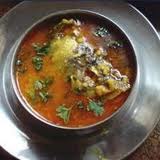 Fish with Moong Dal
Ingredients :
1 cup moong dal
2 fish heads
1 onion, chopped finely
1 tomato, chopped finely
1 tsp garlic paste
1 tsp ginger paste
2 green chillies, chopped finely
1 tbsp turmeric powder
1 tsp cummin seeds powder
1 tsp coriander seeds powder
3 dry red chillies
2 bay leaves
2 cardamoms
1/4" cinnamon
4 cloves
3 black pepper
1 tsp garam masala
1 tbsp lemon juice
A pinch of hing
Salt as per taste
Oil for frying
Method :
Wash the dal and soak for half an hour.
Pressure cook the dal with ½ tsp turmeric powder.
Clean the fish heads and make into big pieces.
Marinate the heads with ½ turmeric powder, salt and lemon juice. Keep aside for 45 mins.
Heat oil for frying. Deep fry the fish heads till golden brown.
Drain and keep aside. Remove the oil from pan keeping only approx 3 tbsp of it.
Add hing, bay leaves, cloves, cardamoms, red chillies, and black pepper.
Add onion and fry till transparent. Add ginger, garlic and green chillies.
Simmer for 2 minutes. Add chopped tomatoes and simmer for 5 minutes.
Add cummin powder, coriander powder. Add fish heads and simmer till they crumble.
Add dal and 1 cup water. Let it boil till the required consistency of curry.
Sprinkle garam masala. Serve to ready.