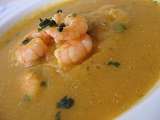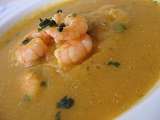 Sopa De Camarao
Ingredients :
250 g prawns, deveined
500 ml water
1 tbsp cornflour
250 ml chicken stock
1 tbsp oil
1 large onion, chopped fine
4 flakes garlic, chopped fine
1 large tomato, chopped fine
1 tsp grated cheddar cheese
Method :
Boil the prawns in 250 ml water, drain and set aside.
Chop fine. Dissolve the cornflour in a little chicken stock and set aside.
Heat oil on medium heat and sauté the onion, garlic and tomato, till a thick paste is obtained, stirring constantly.
Add the reserved water and the chicken stock.
Add the prawns and grated cheese.
Simmer on low heat for five minutes.