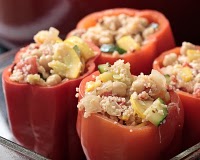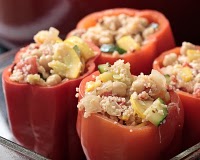 Stuffed Peppers
Ingredients:
• 4 large red bell peppers, roasted, peeled and seeded
• 4 tablespoons extra virgin olive oil
• 1/2 small onion, minced
• 3/4 cup fine breadcrumbs
• 1/2 cup grated fresh tomato
• 6 tablespoons freshly grated pecorino cheese
• 2 tablespoons toasted pine nuts
• 2 tablespoons currants
• 2 tablespoons chopped fresh mint
• 8 strips anchovies
• Sea salt and freshly ground pepper to taste
Directions:
1• Preheat the oven to 375 degrees.
2• Cut the peppers into inch-wide strips.
3• Heat 1 tablespoon of the oil in a small skillet over moderate heat. Add the onion and saute until soft and sweet, about 5 minutes.
4• Combine the onion, breadcrumbs, tomato, cheese, pine nuts, currants, mint and 2 tablespoons oil in a bowl. Stir well, then season with salt and pepper.
5• Arrange half of the pepper strips in a shallow oiled baking dish. Top with half of the breadcrumb mixture, then arrange the remaining pepper strips over the breadcrumb mixture and top with the remaining breadcrumb mixture. Drizzle with the remaining 1 tablespoon oil. Add the strips of achnovies.
6• Bake until well browned and crisp on top, about 30 minutes.
7• Serve warm or at room temperature, not hot.
Serves 6.