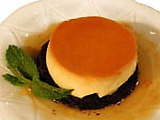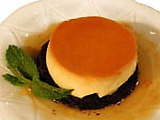 Mango Flan
Ingredients :
For the crust :
7 tbsp crushed marie biscuits
4 tbsp melted butter or ghee
1 tbsp powdered sugar
For the filling :
1 litre milk
1 lemon squeezed
1 tbsp whipped cream
3 tbsp powdered sugar
1 fresh mango peeled and diced
¾ cup mango juice
Method :
For the crust :
Mix together crushed biscuits, butter and sugar.
Fill it in a baking dish.
Press gently the mixture on the tray and put it in the fridge to set.
For the filling :
Boil the milk until one boil. When slightly cool, squeeze the juice of the lemon.
This will curdle the milk, separate the residue from the liquid .
Beat together cream and sugar. Add Mango juice and milk residue.
Now arrange diced mangoes on the set crust.
Pour the filling over set mangoes.
Keep it in the fridge for about half an hour and you are all set to serve.