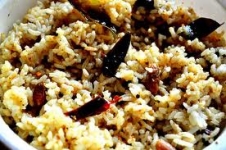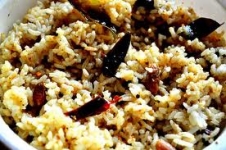 Urad Dal Rice
Ingredients :
1½ cups rice
4 tbsp urad dal
6 or 7 red chillies
Curry leaves
5 cashewnuts
Dry coconut (kopra)
Pure ghee
1 tsp channa dal & urad dal
Salt to taste
Method :
Cook the rice & allow it to cool so that grains separate.
Fry urad dal, red chillies, dry coconut till golden brown. Dry grind.
Add this powder to the cooled rice & add salt to taste.
Take 1sp pure ghee in a pan & fry cashewnuts till golden brown.
Drain & add to the rice.
Put 1 tsp channa dal, urad dal, curry leaves in ghee, fry golden brown & add to rice. Mix well.
Ready to serve.