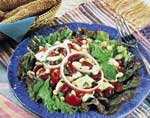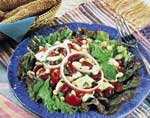 Sunshine Salad
Ingredients:
60 ml 1/4 cup Slivered almonds
6 Bacon slices, chopped
1.5 litres 6 cups Mixed lettuce
20 Kalamata black olives
1/2 1/2 Red bell pepper, julienned
250 ml 1 cup Grissol Three Bread Butter and Garlic Croutons
15 ml 1 tsp Honey Dijon mustard
15 ml 1 tsp White wine vinegar
60 ml 1/4 cup Vegetable oil
To taste Salt and freshly ground pepper
4 Hard boiled eggs, peeled and sliced
180 g 6 oz Cayer Brie Double Crème
Directions:
1• In a pan over medium heat, toast almonds on both sides.
2• Remove almonds from pan and set aside. In the same pan, over high heat, cook bacon until crispy.
3• Put cooked bacon on some paper towels to remove as much grease as possible. 4 Set aside.
4• In a bowl, mix the lettuce, olives, almonds, bacon, pepper and half the croutons.
5• In a another bowl, whisk together the mustard, vinegar and oil.
6• Add salt and pepper.
7• Pour over salad and toss. Arrange on plates.
8• Sprinkle the rest of the croutons and the egg slices over each plate of salad.
9• Slice the Brie into four equal portions and top each salad portion with a wedge of cheese. Serves 4.