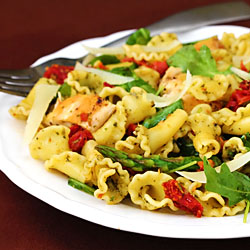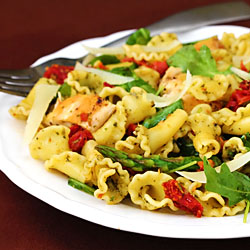 Chicken in Pasta with Sun Dried Tomatoes Asparagus
Ingredients:
• 1/4 cup olive oil
• 3 large boneless chicken breast halves, cut into 1-inch cubes
• 1 onion, chopped
• 1 garlic clove, chopped
• 1/2 teaspoon fennel seeds
• 500 grams fresh asparagus cleaned and cut 1 inch strips
• 1/4 cup finely chopped drained Il Fortetto oil-packed sun-dried tomatoes
• 12 ounces fettuccine, freshly cooked
• 1 cup freshly grated Parmigiano Reggiano
Directions:
1• Heat oil in heavy large skillet over medium-high heat.
2• Add chicken and saute until brown and cooked through, about 6 minutes.
3• Using slotted spoon, transfer chicken to large bowl.
4• Keep warm. Add onion, garlic and fennel seeds to skillet and saute until onion is tender, about 6 minutes.
5• Stir in asparagus and sun-dried tomatoes and continue cooking until asparagus is crisp-tender, stirring occasionally, about 2 minutes.
6• Transfer mixture to bowl with chicken.
7• Add pasta and Parmigiano Reggiano and toss well.