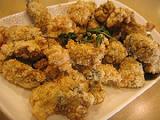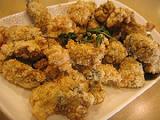 Fried Oysters
Ingredients:
1 lb oysters
1 tbsp wine
1 tsp salt
1 cup flour
1 tsp baking powder
4 tbsp cornstarch
1 cup water (or less)
1 tbsp lard
Oil for deep frying
Directions:
Wash oysters in salt water, boil in clear water for 1 minute, drain and cool.
Dredge oysters with 1 tbsp wine and 1 tsp salt.
Mix flour, baking powder, cornstarch, water and lard to form coating batter.
Dip oysters into batter and fry in deep oil until light brown. Serve hot.