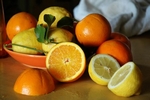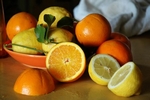 Liquore agli Agrumi
Ingredients:
• 1 liter of 90 proof alcohol
• 2 pounds of sugar
• 4 oranges
• 4 lemons
• 4 mandarins
• 2 cloves
Directions:
1• Clean the fruits very well.
2• Grate the peel of each fruit carefully and stopping at the white of the fruit. Do not grate any part of the white skin.
3• Add the alcohol and cloves in a well sealed container for seven days.
4• Filter liquid.
5• Melt the sugar in 1/2 a liter of water and add to mix.
6• Bottle and seal tightly and let rest for one month before use.