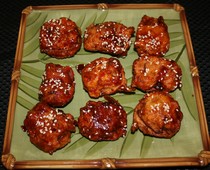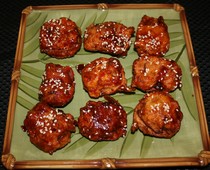 Candied Apples
Ingredients:
4 large green apples, peeled, cored and cut into 8 slices
oil for deep frying
Batter:
1 cup plain flour
2 tbsp cornflour
1 tsp baking sida (bicarbonate soda)
½ beaten egg
Water as required
Syrup:
½ cup sugar
2 tbsp water
Directions:
Prepare the batter by combining all ingredients, adding enough water to achieve the consistency of a thick cream.
Heat the sugar and water over moderate heat, stirring, until the syrup turns golden brown. Keep warm.
Have a bowl of iced water and a greased serving dish ready.
Heat oil for deep frying.
When it is very hot, dip slices of apple, a few at a time, into the batter and fry until golden brown.
Remove from oil, drain, and dip into the syrup, turning to coat thoroughly.
Plunge apple slices immediately into the iced water to set the syrup into toffee-like coating, then put on the serving dish. Serve immediately.