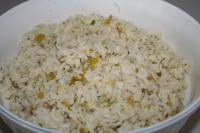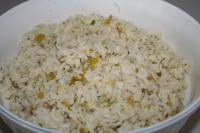 Green Chili Rice
Ingredients:
1 cup uncooked rice
1 (4 ounce) can chopped green chilies
1 small onion , diced
2 cups chicken broth
1/2 teaspoon salt
1/2 teaspoon cumin
3 green onions , sliced
1 teaspoon oregano
1/3 cup fresh cilantro leaves
Preparation:
Combine rice, broth, chilies, onion, oregano, salt and cumin in a large saucepan. Bring to boil, uncovered. Reduce heat to low, cover and simmer until liquid is absorbed (about 20 minutes). Stir in green onions and cilantro.