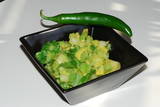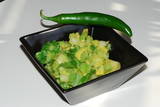 Aztec Guacamole
Ingredients:
2 garlic cloves
1/4 medium onion , chopped
2 avocados , cut in chunks
8 tomatillos
3 tablespoons cilantro , chopped
1 1/2 teaspoons salt
1/2 fresh lime, juice of
1 serrano pepper (may need more depending on heat of pepper and your heat tolerance)
Preparation:
Rmove the husks from the tomatillos, wash them well, and roughly chop them. Put the tomatillos, onion, garlic, and pepper in a food processor or blender. Process for about eight seconds. Add the avocado chunks, cilantro, salt, and lime juice to the food processor bowl. Process an additional ten seconds. The texture is supposed to be somewhat chunky – not a puree. Taste to adjust seasoning. You may need to add more serrano pepper. The tomatillos and lime will keep the guacamole fresh and it won't turn brown.