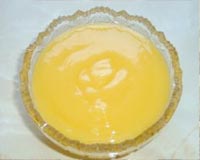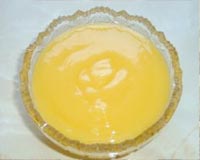 Lemon Curd Jelly
Ingredients :
900 ml milk
230 g sugar
30 g gelatine
3 large lemons
4 tbsp water
Method :
Wash lemons and remove rind in thin strips from two of them.
Infuse rind in milk with the sugar, until the latter is dissolved.
Soak the gelatine in water and when soft, stir into the warm milk.
Do not allow the milk with gelatine to boil or the milk may curdle.
Strain into a bowl and let it cool.
Stir in the strained juice of three lemons and mould. Refrigerate.