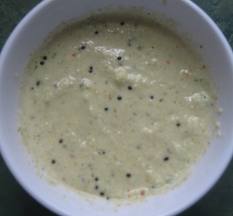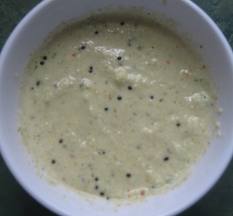 Beaten Rice Chutney
Ingredients :
1 pav beaten rice
1 cup coconut gratings
2 green chillies
2 tsp coriander seeds
2 roasted red chillies
1 tsp jeera
3 tsp oil
1 small piece haldi
tamarind lump (big Bengal gram size)
½ tsp mustard seeds
1 piece gur
3 to 4 curry leaves
salt to taste
Method :
Wipe grinder dry. Grind together coconut gratings, roasted red chillies and tamarind for a few minutes, without adding water.
Put green chillies, cumin and coriander, and grind a little more.
Put gur and salt and continue to grind for a few minutes.
Shift the ground chutney to a vessel.
Mix beaten rice with it.
Season with mustard and curry leaves in oil.
Mix coconut gratings to soften it, if desired.
If you want chopped onion too can be added.
To increase the taste, prepare seasoning liberally, in frying pan, adding mustard and curry leaves in oil, and roast beaten rice with it, till it becomes crispy.
Then mix the above chutney and chopped onion.