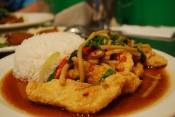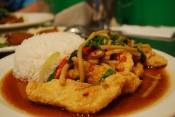 Honey Lemon Fish Fillet
Ingredients:
300g frozen cod or other fish fillet (2/3 lb)
(A)
1/3 tsp salt
dash of sesame oil and pepper
1 egg
1 Tbsp cornstarch
(B)
3 Tbsp lemon juice
1/3 Tbsp tomato ketchup
3 Tbsp honey
1 tsp soy sauce
1/2 cup water
Directions:
Thaw fillet, wash, wipe dry. Cut into pieces, marinate with (A).
Coat fillet pieces with a layer of corn starch, deep-fry to a golden brown, scoop up and drain.
Heat and stir (B) in wok to a boil. Stir until sauce is evenly coated on fillet pieces. Done.