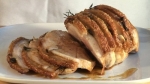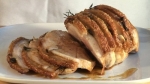 Roast Pork 2
Ingredients:
1 rolled boned pork roast (2-3 lbs.)
1/2 c. rice wine or dry sherry
1/4 c. soy sauce
1 tbsp. packed brown sugar
1 tbsp. finely grated fresh ginger
1 lg. clove garlic, crushed
Directions:
Double bag meat in plastic bags. Stir together wine, soy sauce, brown sugar, ginger and garlic. Pour over meat, tie bags securely, place in dish and marinate at room temperature 1 hour, turning occasionally.
Remove meat from marinade and place, fat side up, on rack in shallow pan.
Insert meat thermometer in meat and roast in preheated 350°F oven until thermometer registers 170°F, about 40 minutes per lb.
Brush with remaining marinade several times while roasting. Chill. Slice thin. Makes 6 to 8 servings.