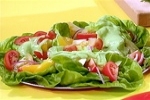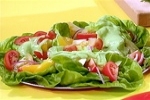 Mexican Salad
Ingredients:
1/2 cup grated sharp cheddar cheese (2 ounces)
1/2 cup chopped green onion
1 head iceberg lettuce
4 tomatoes , sliced
1 cup crushed tortilla chips
1/2 cup sliced ripe olives (I use black)
Avocado Dressing
1 tablespoon lemon juice
1 avocado , mashed
1/2 cup vegetable oil
1/2 teaspoon sugar
1/2 cup sour cream (4 ounces)
1/2 teaspoon garlic salt
1/2 teaspoon chili powder
Preparation:
Tear lettuce into bite size pieces. Combine lettuce, cheese, onions, olives and tomatoes in a salad bowl. To make dressing, combine avocado, lemon juice, sour cream, oil, sugar, garlic salt and chili powder and mix until smooth. This may be done in a blender. Toss salad and dressing and add crushed chips last.