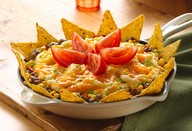 You can publish this article on your website as long as you provide a link back to this page.
This article was last updated on April 16, 2022

Mexican Shepherd's Pie
Ingredients:
1 1/4 ounces taco seasoning mix
1 lb ground beef
2 lbs potatoes , peeled and diced
1 cup cheddar cheese , shredded
2 cups canned corn niblets
Preparation:
Brown and drain ground beef. Add taco seasoning to taste [we prefer a less spicy mix, so I only use half the envelope]. Add corn. Meanwhile, boil potatoes until tender, then mash. If you like, you can add butter and milk. Spread about one third of the potatoes in a round 2 quart casserole dish. Top with the ground beef mixture, then the cheese. Finish with the remaining potatoes. To use right away, bake at 350 about 30 minutes. To freeze, cover and freeze until solid. Lift out of casserole dish and wrap in foil. Place in zipper bag, label with name and date. Use within 3 months. To reheat, unwrap and place in original dish, defrost completely. Bake at 375 for 40-45 minutes.