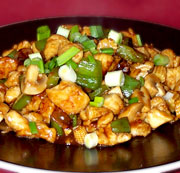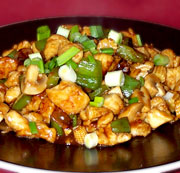 Garlic Chicken
Ingredients:
4 boneless, skinless chicken breast halves (about 1 lb.)
1 egg white
1 tbsp. cornstarch
1 tbsp. dry white wine or sherry
4 green onions, sliced very thinly diagonally
1 tsp. ginger root, minced
3 tsp. fresh garlic, minced (about 6 medium cloves)
2 tbsps. vegetable oil
Sauce:
1 tsp. crushed chili paste or more to taste
2 tsp. sugar
1 tsp. cornstarch
2 tsp. rice vinegar
1 tbsp. water
2 tbsps. dry white wine or sherry
2 tbsps. soy sauce
Directions:
Place chicken breasts in freezer for 1 to 2 hours or until very firm but not frozen solid. Slice crosswise into thin shreds.
In small bowl, lightly beat egg white, then mix in cornstarch and wine, stirring until cornstarch is dissolved. Add chicken and mix well to coat all pieces. Let stand at room temperature 30 minutes.
Combine sauce ingredients, mixing well.
Heat wok or frying pan, add oil, and stirfry chicken until no longer pink. Remove chicken with a slotted spoon.
Add onions, ginger and garlic to wok and stirfry about 30 seconds, until ginger and garlic are fragrant but not brown. Return chicken to wok, restir sauce ingredients and add to wok.
Cook, stirring constantly, until mixture is well combined, hot and bubbly and thickens slightly. Turn off heat and splash with about 1 tsp of dark sesame oil. Serve over rice.