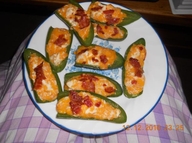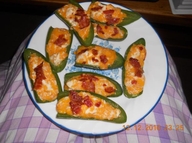 Baked Texas Jalapeno Peppers
Ingredients:
1 (8 ounce) package cream cheese, softened
25 medium jalapeno peppers
4 slices bacon, cooked and crumbled
3 cups shredded cheddar cheese
1 1/4 teaspoons Worcestershire sauce
Preparation:
Cut jalapeño peppers in half lengthwise; remove seeds. Place peppers in boiling water for 5 minutes. Drain well. Combine cream cheese, cheddar cheese and Worcestershire sauce; stir well. Place one heaping teaspoon cheese mixture on each pepper half. Sprinkle with bacon; Place on a baking sheet. Bake at 400°F for 5 minutes or until cheese is melted.