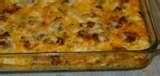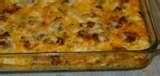 Mexican Casserole
Ingredients:
1/2 cup onion (chopped)
1 lb extra lean ground beef (drained or rinsed!)
2 cups fresh tomatoes , chopped (or 15 oz can diced canned tomatoes)
1/4 cup canned jalapeno slices , chopped
1 (15 ounce) can black beans (rinsed and drained)
1 (15 ounce) can kernel corn (drained)
8 corn tortillas
1 (1 1/4 ounce) package taco seasoning mix
1/3 bunch fresh cilantro , chopped, to taste (or less (or more)
3/4 cup nonfat sour cream
1/3 cup reduced-fat Mexican cheese blend , shredded
Preparation:
Brown ground beef and chopped onions in large skillet; brown 10 to 12 minutes or until thoroughly cooked, stirring constantly. Drain well and rinse with warm water to remove all fat; return beef/onions to skillet. Add corn, black beans, tomatoes, chilies/jalapenos and taco seasoning mix; mix well. Reduce heat; simmer 5 minutes. Meanwhile spray 12×8-inch (2-quart) baking dish with nonstick cooking spray. Cut each tortilla in half; place 8 halves in bottom of sprayed baking dish, overlapping slightly. Spoon half of beef mixture evenly over tortillas. Spoon sour cream over beef mixture; spread evenly. Top with remaining 8 tortilla halves and remaining beef mixture. (Cover tightly with foil & Freeze for later OR cook as directed below…). (Thaw overnight if frozen) Heat oven to 350ºF. Bake at 350ºF for 25 minutes. Remove from oven; sprinkle with cheese. Cover; let stand 5 minutes or until cheese is melted. Sprinkle with chopped cilantro and serve with fresh chopped lettuce, tomatoes, salsa, black olives, etc… Makes 6 large Servings at 6.5 weight watcher pts/each.