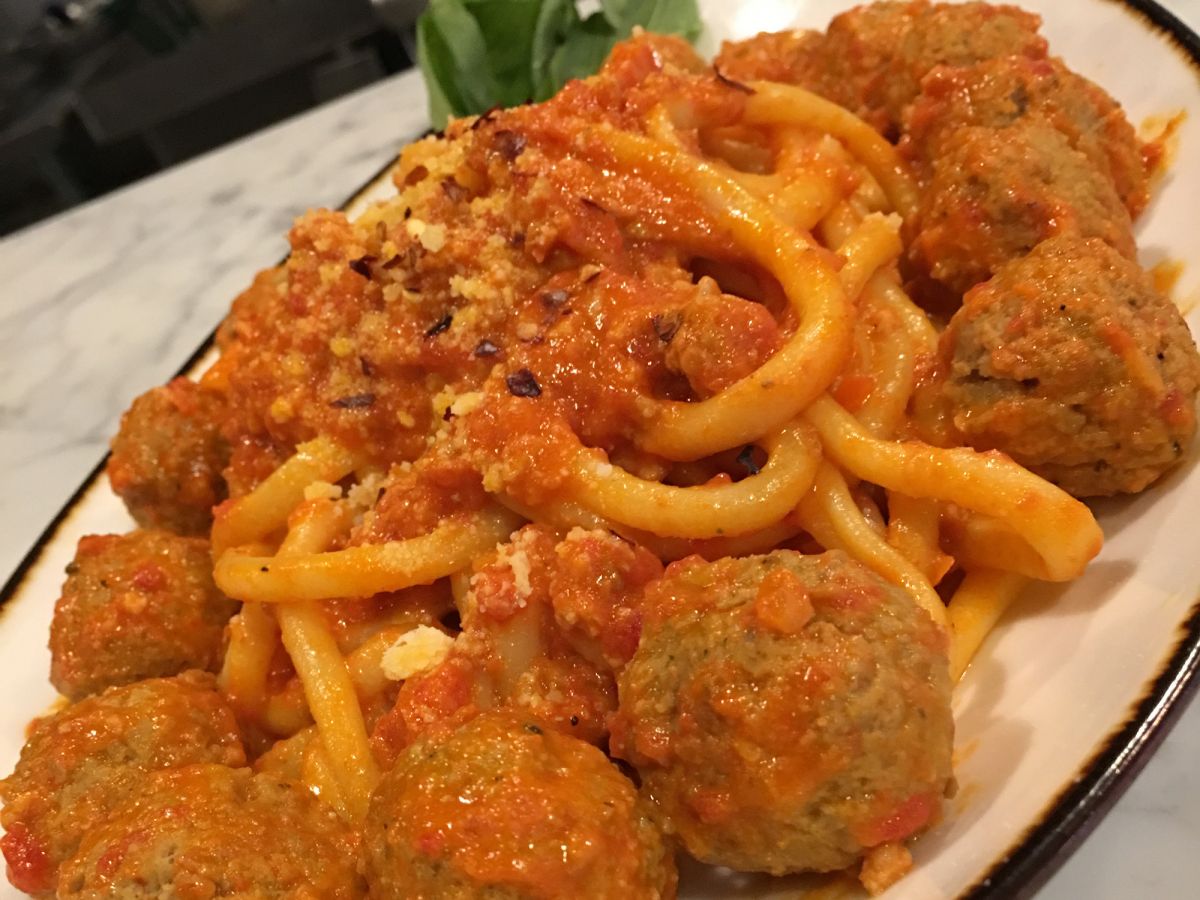 It's hardly an overstatement to say that New York is a foodie's fantasy playground. From cronuts to cat cafés — and everything in-between — we basically can't get off the subway without encountering the culinary world's newest (and deliciously decadent) treat to snap and sample. But with so much dizzying variety, even the most practiced trend spotter could easily get overwhelmed. That's why we're rounding up the eleven most mouth-watering NYC snacks that you — and your followers — aren't going to want to miss out on.
Click ahead to be at the front of the line for every gooey, gloriously extra bite New Yorkers can't wait to try. Spoiler: cravings (and Instagram gold) will absolutely follow.
Fry Guys
Fry Guys may have done the impossible by improving on the universe's most perfect invention — the french fry. Our top pick for this cozy spot? "The Drunk Guy," which comes loaded with queso, guac, and bacon, of course.
Fry Guys, 150 E 2nd St; 917-319-7179
edited by Christina Dun.
Quality Italian
Speaking of improving on a timeless fave, drop by Quality Italian to sample the decadent spin on classic chicken parm. Their version condenses the dish down to a pizza, piled to the heavens with melted cheese. Is it just us, or can you taste those slices just by watching this video?
Quality Italian, 57 W 57th St; 212-390-1111
edited by Christina Dun.
Bluestone Lane
The Village's Bluestone Lane has created an irresistible hybrid of two of our greatest earthly pleasures — coffee and ice cream. The perfect pick-me-up for those sludge-strewn, grey winter afternoons, their coffee cone lattes make the ideal, easy-to-grab snack. The best part? Your other hand will be free to choose the
ideal
filter.
Bluestone Lane, 30 Carmine St; 212-627-2763
edited by Christina Dun.
Raviolo
It's a classic depths-of-winter conundrum: pasta or dumplings? Luckily, Raviolo has given our go-to comfort foods a playful, fusion makeover. Press play to catch all your favorite Italian dishes served up a little differently.
Raviolo, 57 7th Ave S; 917-675-6319
Le District
Real talk: we aren't sure our 2018 budgets will stretch far enough to include a trip to Paris. But, thanks to FiDi's Le District, every New Yorker can feel like she's luxuriously browsing a French farmer's market. Did we mention it's also home to Raclette Frites — a genius cheese-soaked invention?
Le District, 225 Liberty St; 212-981-8588
edited by Christina Dun.
Tiffany's Blue Box Café
If you've ever dreamed of eating breakfast at Tiffany's, Blue Box Café is here to make your most extravogant movie fantasies come true. Serving dainty finger sandwiches and sumptuous buttermilk waffles just as elegant as a 60's movie star, the café drips with (what else?) sparkling crystal accents and is draped in the brand's iconic hue.
Tiffany's Blue Box Cafe, 727 5th Ave, 4th Floor; 212-605-4270
edited by Christina Dun.
Flour Shop
We don't think it's an overstatement to say that Flour Shop is the most adorable bakery in the known universe. Slice into one of their exuberant cakes to discover the boomerang-worthy rainbow-sprinkle surprise lurking at the center.
Flour Shop, 177 Lafayette St
produced by Christina Dun; edited by Christina Dun.
ePasta
Calling all pasta-lovers: FiDi's coziest Italian nook should be at the top of your list. Be sure to order the "Miller's Wife Pasta," which comes complete with a 30 foot-long noodle strand — studded with a wreath of irresistible veal meatballs, naturally.
ePasta, 20 Madison Lane
produced by Christina Dun; edited by Christina Dun.
Emily
Clinton Hill's pizza paradise, Emily, is transforming traditional calzone into every dessert-lover's obsession. Press play to see tendrils of melted chocolate and marshmallow slowly oozing out of pillowy dough pastries.
Emily, 919 Fulton Street; 347-844-9588
produced by Christina Dun; edited by Christina Dun.
Bubby's
The holidays may be over, but Bubby's is keeping last month's coziness vibe alive with its luscious array of mouthwatering pies. Choose from a wide menu of unbeatable classics like Pumpkin and Sour Cherry or try some of their more daring combinations, including Apple Whiskey Crumble.
Bubby's, 120 Hudson St; 212-219-0666
produced by Christina Dun; edited by Christina Dun.
Snowdays
Snowdays takes 2018's viral hot chocolate trend to the next level. Featuring flavors ranging from matcha to white chocolate lucky charms, they've turned this once-basic winter treat into riot of color and unusual combos. Spoiler: we're betting the sight of that peanut butter getting drizzled over the steaming mug is the most decadent thing you'll see today.
Snowdays, 241 East 10th St; 212-982-8881
produced by Christina Dun.
Click HERE to read more from Refinery29



Loading ...