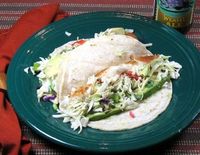 You can publish this article on your website as long as you provide a link back to this page.
This article was last updated on April 16, 2022

Fish Tacos and Cilantro Coleslaw
Ingredients:
4 frozen battered fish fillets
1/4-1/3 head green cabbage
1 teaspoon choppedjalapenos or 1 teaspoon serrano chili, to taste
2 tablespoons chopped fresh cilantro
1 green onion, sliced or minced
1/2 teaspoon cumin seeds or 1/4 teaspoon ground cumin
1 tablespoon mayonnaise
1 tablespoon fresh lime juice
4 8-inch flour tortillas
salt and pepper, to taste
Preparation:
Bake fish fillets according to package directions. Wrap the tortillas in aluminum foil and place them in the oven to heat. Or heat them at the last minute in a microwave in plastic wrap. Shred or chop the cabbage. In a medium bowl, combine the cabbage with all the remaining ingredients. Cut each hot fish fillet into 6-8 pieces, then pile into a hot tortilla with lots of slaw.