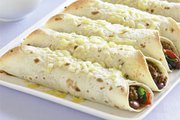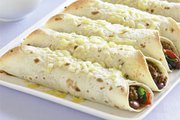 Beef and Bean Burritos
Ingredients:
1 (16 ounce) can refried beans
1 lb ground beef
1/4 cup tomato puree
1 teaspoon salt
1 small onion, chopped
6 flour tortillas
3/4 teaspoon chili powder
1/2 teaspoon coriander
1/2 teaspoon garlic powder
3/4 teaspoon cumin
1/4 teaspoon cayenne pepper
1/4 teaspoon black pepper
Preparation:
Brown ground beef in large skillet. Drain if needed. Add remaining ingredients (except tortillas) and cook together for 10 minutes. Wrap filling into tortilla with your choice of cheddar cheese, sour cream, black olives, avocado, and/or salsa.