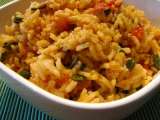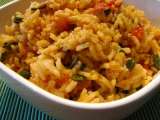 Tex-mex Rice
Ingredients:
2 tablespoons vegetable oil
2 cloves peeled and halved garlic
1 (14 1/2 ounce) can chicken broth or 1 (14 1/2 ounce) can vegetable broth
1 cup long grain white rice (not instant or fast cooking)
1/4 cup chopped diced carrot (fresh, optional)
1/4 cup frozen corn or 1/4 cup fresh corn (optional)
1/4 cup salsa (any store brand will do)
Preparation:
In a heavy pot, cook garlic in oil over high heat until browned, stirring often. Discard garlic cloves. Add rice to infused oil and reduce heat to medium high. Stirring constantly, brown rice. Add broth, salsa, carrots and corn and reduce heat to low. Cover and cook for 20 minutes. Fluff rice before serving.