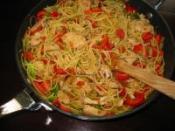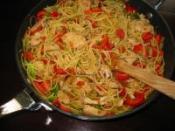 Pasta with Chicken and Peppers
Ingredients:
1 (4 ounce) can chopped mild green chilies, drained
1 minced garlic clove
1 teaspoon cumin
4 cups low sodium chicken broth
1/2 teaspoon chili powder
4 plum tomatoes or 6 whole canned tomatoes, well drained
1/2 lb boneless skinless chicken breast
3 scallions
1 large green bell pepper
3/4 lb vermicelli or 3/4 lb other thin pasta
1 tablespoon vegetable oil
1/4 teaspoon salt (omit if using regular chicken broth)
1/4 cup fresh cilantro stem (optional)
Preparation:
In a medium saucepan, bring the chicken broth, garlic, cumin and chili powder to a boil over medium-high heat. Meanwhile, coarsely chop the tomatoes, scallions and bell pepper. Break the vermicelli into 2-inch pieces. Add the chicken to the boiling broth, reduce the heat to medium-low, cover and simmer until the chicken is cooked through, about 10 minutes. Remove the chicken and set it aside to cool slightly. In a large nonstick skillet, warm the oil over medium-high heat until hot but not smoking. Add the vermicelli and cook, stirring, until the vermicelli is lightly browned, about 2 minutes. Add the broth mixture, tomatoes, scallions, bell pepper, green chilies and salt, and bring to a boil over medium-high heat. Reduce the heat to low, cover and simmer, stirring occasionally, until the pasta is cooked, about 7 minutes. Meanwhile, shred the chicken. Mince the cilantro (if using). Stir the shredded chicken and cilantro into the pasta mixture and serve hot.