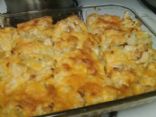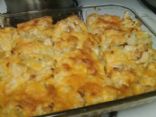 Chicken Enchilada Casserole
Ingredients:
1 (10 ounce) can cream of mushroom soup
1 (10 ounce) can cream of chicken soup
3 -4 chicken breasts (or 6 Halves)
1 (10 ounce) package cheddar cheese , grated
1 small onion , diced
1 (8 ounce) can diced green chilies (hot or mild, or a small can of each)
1 teaspoon salt
12 corn tortillas
16 ounces sour cream
1 tablespoon garlic powder
oregano
Preparation:
Place Chicken in large saucepan and cover with water. Sprinkle in a handful of oregano,add garlic powder and salt. Boil about 20 minutes and shred from bones. Save broth. Mix soups, sour cream & chiles in large pan. Add only enough broth to slightly thin. Re-season as needed. Simmer on low 15 minutes. Add chicken and diced onion. In casserole dish, arrange 6 Tortillas flat across bottom, spoon in 1/2 the sauce, sprinkle 1/2 the cheese. Repeat- Tortillas, sauce and cheese. Bake in 350 degree oven for 20 minutes.