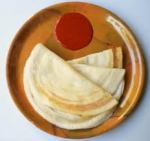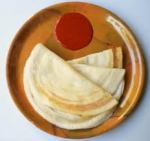 Sada Dosa
Ingredients :
1 pav black gram dhal
2 pav maida
oil for roasting
salt to taste
Method :
Soak black gram dhal in water for 2 hours.
Wash. Grind to a fine paste. Sieve maida.
Combine it with a little water at first and then put plenty of water.
Keep aside both the batters, under cover, separately overnight.
Next day, decant water on top of maida.
Combine both the batters together, put salt and beat well.
Prepare dosas by spreading the batter-mix thinly on hot dosa pan smeared with oil, roasting on both sides, by using oil.