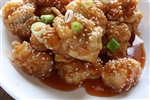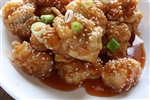 Shredded Beef with Sesame Seeds
Serves 4
Ingredients:
1/2 lb. steak
1 egg white
salt, to taste
2 tsp. cornstarch
2/3 c. peanut or vegetable oil
1 tbsp. sesame seeds
Sauce:
1 tsp. soy sauce
1 tsp. cider vinegar
1/2 tsp. sesame oil
1 tsp. sugar
2 tsp. Sherry
1 scallion, chopped
Directions:
Cut steak into thin strips "shreds" that are about 3″ long.
Whisk together egg white, salt, and cornstarch.
dd beef, toss, and refrigerate for 20 mins.
Heat oil in a wok, until it is moderately hot.
Add the beef mixture, and stir-fry until beef is white. Immediately, drain beef, and set aside.
Wipe out wok and add 1 tbsp. of oil. Reheat wok until hot.
Add sesame seeds, and stir-fry until slightly brown.
Add the sauce ingredients, and bring to a boil.
Return the cooked beef to the pan, and stir-fry for 2 mins., coating the pieces thoroughly.