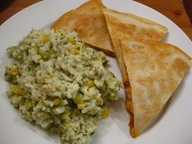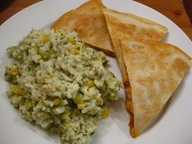 Mexican Sour Cream Rice
Ingredients
1 cup uncooked long grain white rice
1 (14 ounce) can chicken broth
1 cup reduced fat sour cream
1 (4 ounce) can diced green chile peppers
1 cup shredded Monterey Jack cheese, divided
1 (8.75 ounce) can whole kernel corn, drained
1/4 cup finely chopped fresh cilantro
salt and ground black pepper to taste
Directions
In a large pot, bring the rice and chicken broth to a boil. Reduce heat to low, cover, and simmer 20 minutes.
Preheat oven to 350 degrees F (175 degrees C). Lightly grease a 1-1/2 quart casserole dish.
In the pot with the cooked rice, mix the sour cream, green chile peppers, 1/2 cup Monterey Jack cheese, corn, and cilantro. Season with salt and pepper. Transfer to the prepared casserole dish, and top with remaining cheese.
Bake uncovered 30 minutes in the preheated oven, until cheese is bubbly and lightly browned.