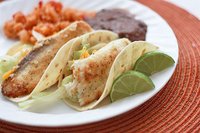 You can publish this article on your website as long as you provide a link back to this page.
This article was last updated on April 16, 2022

Lime Fish Tacos
Ingredients
1 pound red snapper or orange roughy fillets
1 garlic clove, minced
7 teaspoons lime juice, divided
1/4 teaspoon white pepper
2 tablespoons reduced fat sour cream
2 tablespoons fat-free mayonnaise
1 dash hot pepper sauce
7 (8 inch) flour tortillas, warmed
2 tablespoons butter
1 cup shredded lettuce
1 cup chopped fresh tomato
Directions
Remove skin from fish and cut fish into 1-in. cubes. In a nonstick skillet, saute garlic in butter and 5 teaspoons lime juice for 30 seconds. Add fish and pepper. Cook for 6-8 minutes over medium heat until fish flakes easily with a fork.
Meanwhile, combine the sour cream, mayonnaise, hot pepper sauce and remaining lime juice. Place as spoonful of fish on each tortilla. Top each with lettuce, tomato and sour cream sauce; fold over.