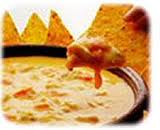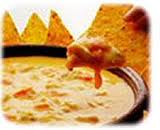 Dos Queso Dip
Ingredients
1 (16 ounce) container sour cream
1 (8 ounce) package cream cheese, softened
1 (1 ounce) package taco seasoning mix
2 cups shredded Pepper Jack cheese
1 cup salsa
1 teaspoon dried, crushed Mexican oregano
salt and pepper to taste
Directions
Preheat oven to 350 degrees F (175 degrees C).
In a medium bowl, blend sour cream and cream cheese until smooth. Mix in taco seasoning mix. Stir in salsa, Mexican oregano, salt and pepper.
Transfer to a 9×13 inch baking dish. Top with Pepper Jack cheese. Bake in the preheated oven 10 minutes, or until cheese is melted.