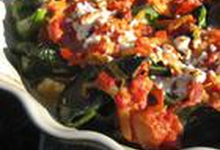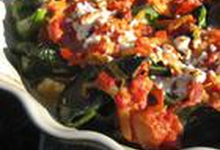 Chiles Rellenos de San Joaguin
Ingredients
10 poblano peppers, halved lengthwise, stems and seeds removed
1 teaspoon olive oil
1 small onion, thinly sliced
1 cup diced fresh tomatoes
1/2 teaspoon ground cumin
2 tablespoons sour cream
12 ounces cotija cheese
Directions
Adjust oven rack to its topmost position and set oven to broil.
Place chiles skin side up on a baking sheet, and broil until skins blister, about 5 minutes. Be careful not to let them burn. Remove chiles from the oven and place in a glass bowl. Cover with plastic wrap and let chiles steam until cool. Remove and discard the skins.
Preheat oven to bake at 350 degrees F (175 degrees C).
Heat olive oil in a small skillet over medium heat. Stir in sliced onions, and cook until soft, about 5 minutes. Add the tomatoes and cook until onions and tomatoes achieve a sauce-like consistency, about 15 minutes. Stir occasionally. Season with cumin, stir briefly, then stir in the sour cream; remove from heat.
To assemble the chiles rellenos: Slice cheese into 20 long rectangles (or sticks) 1/4-inch thick and approximately as long as the chiles. Roll each cheese rectangle into a chile half. Place rolled chiles into a baking dish and top with the tomato sauce. Crumble any extra cheese on top of the sauce. Bake for 30 to 40 minutes until the sauce is bubbly.