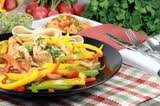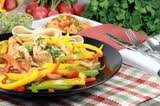 Citrus Chicken and Pepper Fajitas
Ingredients
1 tablespoon Crisco® Pure Olive Oil
1 pound boneless, skinless chicken breasts, cut into strips
1 green bell pepper, cut into strips
1 large onion, cut into 1-inch pieces
2 cloves garlic, minced
1/2 cup fresh lime juice
1 teaspoon ground cumin
1 teaspoon dried oregano leaves
1/8 teaspoon freshly ground black pepper
Salt and pepper to taste
8 (7 to 8-inch) flour tortillas, warmed according to package directions
Salsa
Sour cream
Directions
Heat oil in large skillet over medium-high heat. Add chicken, bell peppers, onion and garlic. Cook and stir 2 minutes.
Reduce heat to low. Add lime juice, cumin, oregano and black pepper. Simmer 7 minutes or until chicken is no longer pink in center.
Season with salt and pepper. Serve with warm tortillas, salsa and sour cream.